Clinical Hypnosis Training Courses - Hypnotherapy Practitioner Training Programme

Flexible Training options include:

(Choice of weekday attendance - 20 days, 4 modules, each of 5 days or weekend attendance - 20 days).

Just click the image to the left to open and / or print the prospectus.

Please note : To see these pages, you will need to have a copy of Acrobat Reader on your PC. You can download a free version by clicking HERE.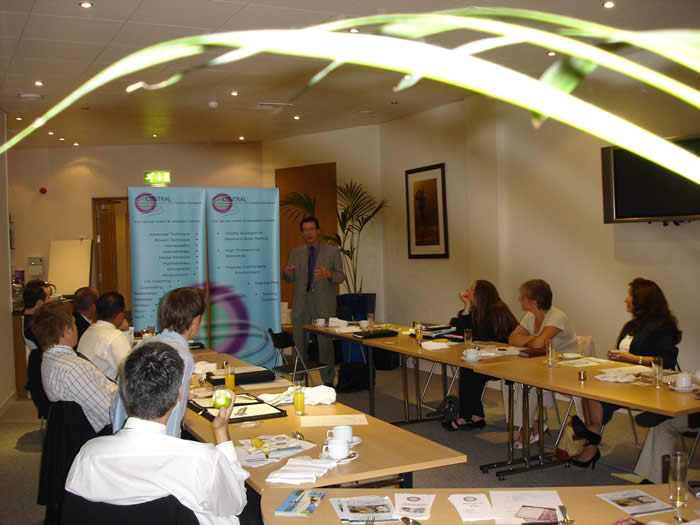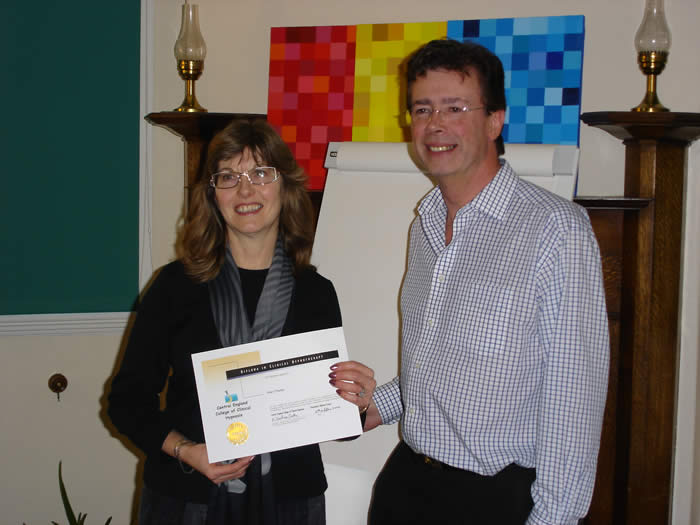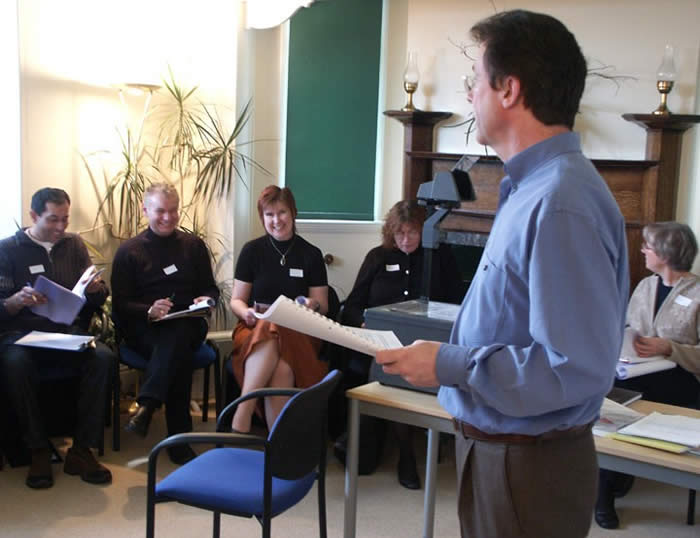 Central England College- Professional Practitioner Programme
Clinical Hypnosis Training course
Your fast track to a successful new career in Clinical Hypnosis, Hypnotherapy, NLP and Professional Coaching Our Clinical hypnosis, NLP, and coaching Courses can enable you to change your life forever!
Start a new, exciting and rewarding career applying Clinical Hypnosis, NLP and Life coaching techniques to help others to achieve amazing life changes If not now - when?
Fully accredited, open access clinical hypnotherapy training courses leading to professional registration up to level 4, foundation degree level, Diploma.
Optional HPD qualification - externally awarded by the national awarding body, NCfE and The National Council for Hypnotherapy

Human Potential and Personal Development Clinical Hypnosis training courses, NLP training and Professional Coaching
The field of Human Potential and Personal Development is in a healthy phase of growth. Many people realise the potential for mind/body learning and achievement and are eager to seek out professional assistance to achieve insight on just what is really important to them in their lives and in their work and how to achieve it.
Many are turning to a more holistic approach to Psychotherapy to assist with their emotional wellbeing and to help them to overcome stress and anxiety, fears and phobias as well as helping to rid themselves of unwanted habits such as smoking and over-eating.
Professionally qualified Practitioners in these fields are in demand working with individuals as well as with groups and within organisations to offer Performance Coaching, NLP, Hypnotherapy and Stress Counselling.
Up until now there have been somewhat unnecessary dividing lines and a certain amount of confusion between the roles of Therapist, Counsellor, NLP Practitioner and Coach. In reality almost everyone who is a Therapist or an NLP Practitioner or Counsellor, coaches! All coaching requires counselling and usually employs some NLP techniques etc! This can make it difficult for potential clients to know where to seek help and to choose what is most appropriate for their particular needs.
The CEC Professional Practitioner Programme is unique in that it offers a cohesive structured approach to training, providing four separate, stand alone certificated Practitioner courses in:- (1) NLP Professional Coaching, (2) Brief Solution Focussed Hypnotherapy, (3) Ericksonian Hypnosis including New NLP Wellbeing Modelling, and (4) Cognitive Behavioural Hypnotherapy including the Quit 4 Life Smoking Cessation Programme. All four courses can be studied on weekdays or at weekends
The four courses, when combined, can lead to, subject to successful assessment, the optional national Hypnotherapy Practitioner Diploma (HPD). This foundation degree level (level 4) course is externally awarded by the national awarding body NCfE and accredited by The National Council for Hypnotherapy (NCH).
Courses are also fully accredited by The Association for Professional Hypnosis and Psychotherapy (APHP) as well as The National Register of Psychotherapists and Counsellors (NRPC). The training includes Emotional Freedom Technique (EFT) and Eye Movement Desensitisation and Reprocessing (EMDR).
The Central England College faculty comprises of a dedicated team of highly respected and experienced professional Trainers and Practitioners including best selling and prize winning authors. Training courses are conducted in the college's own training centre in Kings Heath, Birmingham which provides easy access by rail, bus and car and has free on-site parking.

NLP Professional Coaching -

5 day Intensive Practitioner Course
The skill of the professional Coach is to be able to objectively assist others to gain clarity over what is important to them, both in their lives and their work, to help them access the resources they need and to mobilise themselves to move forward and achieve their goals.
NLP offers powerful, effective, rapid and easy to learn skills which can be invaluable to all those involved in the field of personal development and communication, or who wish to change their own lives. Based upon modelling skills, NLP effectively teaches us how to be excellent in what we do. It is often described as a set of tools that shows us how to run our minds.
This intensive, highly practical five day course, to International Coach Federation core syllabus requirements, leads to an accredited certification in Performance and Life Coaching and registration with CEC. Participants learn the techniques of Professional Performance and Life Coaching, including Niche Coaching in wellness, work/life balance, corporate achievement and sports/athletic performance. They also work with volunteer clients and other delegates in extensive role play and practise sessions.
Coaching is without geographical boundaries and qualified coaches, since they frequently carry out much of their work by phone, can effectively build an international client base. Coaching can add incredible value to people's lives and therefore, as a career, it can be financially very well rewarded. Full training on building a successful coaching practice is provided in this course.
A comprehensive training manual together with practical and written assignments is provided.
Regular ongoing practise, mentoring and supervision sessions are all included within the training fees.
When you take this course you will learn:
What it means to coach others

The skills of both Executive/Corporate Achievement and Life Coaching

The skills of listening and effective questioning

How to help clients identify their own Values and Beliefs, then translate them into achievable goals

How to help motivate clients to stay on track

How to help clients to build self-esteem and confidence

How to meet clients within their own frame of reference and encourage them to stretch outside their comfort zone

Rapid NLP change techniques including the "SWISH" pattern

How to recognise when it may be more appropriate to refer your client on to another appropriate professional

Sports Performance enhancement techniques

How to build a successful private and corporate coaching practice

How to set up coaching agreements to the CEC ethical guidelines and professional standards
and much, much more!

Solution Focussed Hypnotherapy - 5 Day Intensive Practitioner Course<

Including Classical and Analytical Hypnosis

The skills of assisting clients to resolve issues with which they may have struggled for some period of time, is, or should be, at the forefront of all psychotherapeutic training. Beginning with counselling skills and rapport building techniques, this 5 day certificated training develops into the use of Solution Focussed Hypno-Psychotherapy techniques, including the use of therapeutic metaphor.

Sometimes clients are resistant to change, possibly due to some secondary gain associated with the symptoms, often at an unconscious level. This course teaches ways of uncovering and resolving hidden issues through time regression and psychoanalytical methods.

We also teach you how to work safely and successfully with children and how to employ cellular healing and pain control techniques. You will also learn how to use Eye Movement Desensitisation and Reprocessing (EMDR) a remarkable technique for overcoming post traumatic stress disorder and for removing fears and phobias.

Completion of this course provides two separate certificates, one in "Solution Focused Hypno-Psychotherapy" and one in "Solution Focussed Counselling Skills".

A comprehensive training manual together with practical and written assignments is provided.

Regular ongoing practise, mentoring and supervision sessions are all included within the training fees.

When you attend this training you will learn:

Counselling techniques including Rogerian (Person Centred) and specialised counselling approaches

How to "Scramble" Symptoms to dissolve their power and attachment

Regression and analytical work including "Free association" and "Rapid Direct to Cause" techniques

Therapeutic Metaphor

Anxiety States Therapy

Stress Management Techniques

The De Shayzer "Solution Focused Therapy" Model

Hypnotherapy and the successful treatment of IBS

Treatment of emotional and psychosomatic disorders

Working with substance misusers

Eye Movement Desensitisation and Reprocessing (EMDR)

Inner Child healing

Working with Children

An introduction to "Gestalt" approaches

Pain Control

Safeguards and Ethical Considerations

and much, much more

Ericksonian Hypnosis - 5 Day Intensive Practitioner Course

including new NLP Wellbeing Modelling

Ericksonian Hypnosis, which is also an important element of NLP, teaches us to utilise whatever the client presents us with, on the basis that the answers always lie within, no matter how deeply buried they may be. Ericksonian language patterns enable us to discover what our clients really want and how to use appropriate language and strategies, as therapists, to help the client to make rapid, genuinely effective and permanent change.

Created over 25 years ago, NLP is continuing to evolve and develop. Timeline interventions provide elegant and powerful ways of achieving therapeutic progression, regression and real life changes through the use of visualisation. This certificated, 5 day course is at the leading edge of Clinical Hypnosis training, incorporating some of the latest innovations including: Active Modelling Techniques, NLP Wellbeing Modelling, Power Reading and Accelerated Learning Strategies.

As with our other courses, this certificated Ericksonian Hypnosis Practitioner Course is taught using the powerful principles of Accelerated Learning enabling the whole learning experience to be highly practical, absorbing and fun! If you want courses where you just sit and listen, then our training is not for you. NLP can best be learned by doing it. We teach you what to do and why we're doing it, then demonstrate it, and then get you to practise it.

A comprehensive training manual together with practical and written assignments is provided.

Regular ongoing practise, mentoring and supervision sessions are all included within the training fees.

When you take this course you will learn:

Skills of effective, clear communication (NLP Meta and Milton Models)

How to gather specific high quality information from people and then use it to achieve successful outcomes

The structure, content and application of Ericksonian Hypnosis

How to improve the learning ability of yourself and others

How to change unwanted behaviours in rapid and effective ways

How to "see" what is going on inside yourself and others

Speed Reading and Accelerated Learning techniques

Phobia Release therapy, including the NLP Fast Phobia Release

To work with anchors to create your own resourceful state of excellence – and teach others to do the same

Working with internal states (Reframing - Parts Integration)

Changing the way we internally represent (NLP Changing Submodalities)

How to use Timeline interventions to clear negative influences from the past, and create a positive future

How to successfully and ethically practice NLP and Ericksonian Hypnosis

and much, much more!

Cognitive Behavioural Hypnotherapy 5 Day Intensive Practitioner Course

including the "Quit 4 Life" Smoking Cessation Programme

Cognitive Behavioural Therapy (CBT) is a vital cornerstone of modern psychotherapy with wide levels of credible research and proven success in overcoming behavioural difficulties. You will learn here how powerful hypnosis/CBT strategies can assist clients to overcome unwanted behaviours/habits, including over eating and smoking.

This fully certified and accredited 5 day intensive course focuses on well tried and tested methods of assisting people to make powerful behavioural changes. The combined hypnosis/CBT models can be highly effective and all participants will learn to use them along with NLP and Emotional Freedom Technique (EFT) in a powerful combination which, for smokers, can often achieve complete success in as little as one single 50 minute treatment session!

Smoking kills 120,000 people in the UK every year. Rates of smoking amongst 15 to 24 year olds are still amongst the highest in Europe (UK Government statistics). At today's prices, a 20 a day smoker will spend over £31,025.00 on cigarettes over the next 20 years. Its small wonder that smoking cessation therapists can charge a substantial fee, should they wish, for their services (on average £75 per hour).

Graduates of this course are offered an option of taking out a License to practice under the registered "Quit 4 Life" banner. This is not a franchise. There is nothing to buy. Licenses are awarded on a renewable annual basis and include professional insurance, code of ethics, professional standards agreement and marketing support, with corporate development opportunities through The Well Being Company and inclusion on the Quit 4 Life website and register.

A comprehensive training manual together with practical and written assignments is provided.

Regular ongoing practise, mentoring and supervision sessions are all included within the training fees.

When you take this course you will learn:

The background, theory and practice of Cognitive Behavioural Therapy (CBT)

Hypnosis/CBT models for effective behavioural change

Hypnotic inductions, including rapid trance techniques

Safeguards and cautions – issues of responsibility, ethics and legality

The history of hypnosis and the development of Hypnotherapy

Hypnotic deepening techniques

Emotional Freedom Technique (EFT) – a wonderfully powerful method of combining affirmation with tapping on meridian points

The "Benefits Approach" therapeutic model

The "Quit 4 Life" Smoking Cessation Method, including scripts and strategies for success

How to build a successful Cognitive Behavioural Hypnotherapy private practice

How to use Hypnotherapy with groups of people

How to take these skills into organisations and develop a thriving corporate practice

and much, much more!

Tapping into the CEC Community

Training at Central England College offers you much more than just the courses. Our graduates gain free access to a community/network of like minded individuals. Many mutually supportive relationships are developed. Regular ongoing practise, mentoring and supervision sessions are all included within the original training fees. All CEC graduates go away with comprehensive training manuals along with supporting materials.

Enjoying Your Training

CEC courses are well known for that extra vital ingredient – fun! We know that you are likely to learn more if you are having a good time. People often ask how we can squeeze so much into each course. With the latest Accelerated Learning techniques that we use you will probably be surprised to find just how much you have absorbed during the course.

Who can benefit from our courses?

Our policy is one of open access and our intention is to make the courses widely available to all those with a genuine desire to assist others and themselves to make effective changes in their lives. We interview every participant (either face to face or by telephone) before a place is offered. This gives you the opportunity to ensure that the courses are right for you and for us to satisfy ourselves that we can genuinely offer you a successful completion of your training.

Achieving the NCfE/NCH Hypnotherapy Practitioner Diploma

Although each course is separate and individually certificated, upon completion of all four courses in any order together with completion of the respective assignments from each, students gain the Diploma in Clinical Hypnosis and can begin practice under supervision. All students are also eligible to attain the portfolio based qualification, the Hypnotherapy Practitioner Diploma (HPD). This is an entirely optional second stage of the qualification which is externally awarded by the National awarding body NCfE, and accredited by the National Council for Hypnotherapy. Graduates may apply for professional registration and membership, discounted insurance, and can request an NHS provider number.

Would you like to stay over, locally?

The college has a list of accommodation in the very local area. From inexpensive B & B up to 4 star hotels, we will happily send you a list, if you ask us when you book your course.

The Small Print

Upon receipt of your application, by post or by phone, we will contact you for an informal discussion prior to confirmation of enrolment. Your payment will only be processed after this discussion. All fees are refundable or transfer to alternative course dates offered, provided that a clear 30 days notice is given. We constantly seek to improve and update the quality and content of our training courses. We therefore reserve the right to change our syllabuses and course structures. We also reserve the option, on rare occasions to change trainers and training venues. If this does happen, and in all events, we guarantee to maintain the quality and value of our training. Nothing in our prospectus forms a contract. Photographic, audio and video recordings of our courses are not allowed. Although our policy is one of open access, we reserve the right to refuse any course application at our discretion and to terminate the training of any student whose conduct is deemed offensive/disruptive. If you have a learning difficulty or suffer/have suffered from any serious physical or mental condition which might impact upon your training and subsequent professional practice, please discuss this in confidence with your tutor at the time of enrolment. For any help/advice please don't hesitate to call us. Details of course timings, directions and recommended reading list will be sent to you with your receipt.

Training Faculty

Nick Cooke D. Psy. MNCH (Acc) FAPHP

Director of Studies

Nick is the principal trainer and course developer. A highly experienced practitioner, teacher and writer, Nick has numerous qualifications in Hypnotherapy, NLP and Coaching. As well as formal UK teaching qualifications Nick is a certified Hypnotherapy trainer with the USA National Guild. He is an elected Fellow of the Association for Professional Hypnosis and Psychotherapy and an accredited member of The National Council for Hypnotherapy.

Faculty of Core Syllabus and CPD Trainers currently includes:

Rachel Broomfield

Lorraine McReight

Hilary Norris-Evans

David Kato

Training also available in London

As well as at Central England College in Birmingham, The CEC Professional Practitioner Programme courses is also facilitated in London. For further information please visit www.londonhypnotherapyacademy.co.uk

Weekday or Weekend Training Flexibility

Each course is available for weekday or weekend study. Students can plan to attend some modules on weekends and some on weekdays as required. Please see our full timetable

One Year Hypnotherapy Practitioner Diploma Course

As well as weekday programmes,the complete combined course is available as a part-time (weekend based) programme which takes a year to complete. Specifically designed for those in full-time employment or who simply prefer to attend at weekends, the course requires attendance in Birmingham one weekend a month over a ten month period and has a flexible modular structure which enables new students to enrol on one of a number of foundation modules offered throughout the year.

Intensive One to One Training

A very small number of places, for each course, are available for those with time constraints or who wish to qualify through an intense, one to one trainer/student route. The number of hours of attendance can be significantly reduced and the qualification attained in a considerably shorter timeframe (subject to completion of assignments). If you feel this is for you ask us for details.

Distance Learning

Although attendance is highly recommended, courses are also available by distance learning together with occasional study days. Please ask us for details.

Mind Wide Open….

Mind Wide Open is a one day introduction course to Hypnotherapy, Coaching, NLP and Mindfulness. Participants will experience going into hypnosis themselves as well as learning how to take someone else safely and easily in and out of hypnosis. You will also learn some NLP models for rapid change and the essence of Life Coaching. The day is a highly practical and fun way to learn and an ideal (low cost) taster if you are considering the other courses.

Fees and Training Dates

Please click here or Contact England College

240 Alcester Road South

Kings Heath

Birmingham

B14 6DR

T: 0121 444 1110

E: info@centralenglandcollege.org